Knitting and other handwork projects play an important role in the development of fine motor skills, inner calm, and intellectual clarity. Author and handwork teacher Rachel Magrisso from the Green Mountain Waldorf School in Vermont says that handwork "is the time for the children to be still within themselves. It helps the children in their thinking, in their ability to make judgments: is every stitch even, clear, consistent, and of the right tension? When they are doing handwork, there is harmony. The room settles down to a hum."
The specific handwork taught in Waldorf schools develops with the growing child. The students are always expanding their hand dexterity and their work with design, color and precision all the way from First Grade, when the curriculum calls for learning the basic knit stitch and creating a practical and useful project in a warm textile such as wool, to the Eighth Grade, when the students learn the skills to design and sew clothing using a sewing machine. They are exercising their will force, patience, and longevity to keep working at a project over weeks and even months. Through all this, the students gain a precious insight into the nature of physical things and a deep appreciation for human-made objects in general.
Handwork offers many opportunities for reinforcing math skills in practical, challenging, and enjoyable ways. Author and Waldorf teacher Eugene Schwartz says that "We cannot underestimate the self-esteem and joy that arises in the child as the result of having made something practical and beautiful — something which has arisen as the result of a skill that has been learned."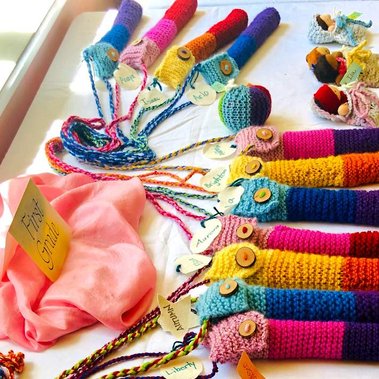 First Grade
The students begin their journey of Handwork with simple knitting. First they sand and oil wooden dowels to make their knitting needles, then they learn to knit. The rhythmic and repetitive activity of knitting develops concentration, strengthens small motor skills/hand-eye coordination, and brings a strong sense of accomplishment and pride when they complete a project that takes months. The first project is a bunting for a small baby and their second is a protective case for their new flute.
Second Grade
Once more the students begin the year by making their own knitting needles. Building on the skills from first grade, they learn more complex stitches as they follow more complex patterns involving casting on and off stitches. This asks them to keep careful count of their stitches and practice basic addition and subtraction as they knit. The excitement and joy they feel, when their knitted gnome or animal is finally ready to go home is invaluable.
Third Grade
The Third Grade curriculum brings new challenges as they learn to crochet. Crocheting is a rhythmic and repetitive activity that involves an even higher degree of concentration and even more complex fine motor skills/eye-hand coordination. By keeping careful count (there are the 7x tables in every crocheted circle), combined with measurement, a warm hat and other fun items are created. As an accompaniment to the fibers block, the students will clean, card and spin wool as well as dye cloth for a future handwork project as well.
Fourth Grade
In Fourth Grade, the students begin with a symmetrical cross-stitched pin cushion. Cross stitching requires the students to work with precision and replicating a design in its mirror image challenges them to experience the two sides of themselves at a time when they are experiencing their emerging individuality. Next the students experience more precision by embroidering and stitching a useful handwork bag, made from the cloth that they dyed in the Third Grade.
Fifth Grade
In Fifth Grade, the students enter a more balanced stage in their development and are ready for the challenging task of knitting a pair of socks. They move from knitting two dimensionally on two needles, to knitting three dimensionally (in the round) on four needles. After once more making their own knitting needles, they are introduced to knitting abbreviations, knitting terms and following a complex knitting pattern. A fresh variety of spatial concepts, numeric patterns and dexterity challenges meet the fifth grader as the mystery of their socks unfold.
Sixth Grade

In Sixth Grade, students take hand sewing to a new level as they begin to enter into adolescence. They are experiencing the beginning of something new in themselves. Making a human form (a doll) and then its clothing, gives them a safe venue to explore this inner and outer newness while learning valuable handwork skills. A wide variety of fine stitches, stuffing techniques and careful attention to directions and details are required to make a doll. Dressing the doll provides a fun introduction to making one's own clothing. The student's ability to conceive and create in 3-D space has expanded a little more.
Seventh Grade
In Seventh Grade the students make their own pattern and then sew a stuffed animal from it. First they learn about and draw their animal from many angles and poses in order to get a deeper understanding of its anatomy. Then working with a 2D drawing and applying the formula "2 pi radius = circumference", a 3D pattern is made. Over and over they discover the relationship between 2D and 3D as their animal is sewn and "brought to life" in its final stuffed form.
Eighth Grade
After hand sewing hundreds of stitches, the students are ready for (and truly appreciative of) a sewing machine. The speed and strength behind these stitches requires them to focus even more on the task at hand, as removing machine made mistakes is quite tedious. After learning sewing machine basics, the terminology used in patterns, and completing a few practice projects, they make their own pajama pants. In an effort to experience the industrial age first hand, they work in assembly line fashion to mass produce something to be gifted to the community.